Polished Concrete
Polished Concrete Markets Includes: Not Mentioned
Polished Concrete Floors
Polished concrete flooring is fast becoming an architectural choice for commercial and industrial concrete floors throughout the flooring sector. A polished concrete floor offers a wide range of finishes ranging from terrazzo aggregate exposure to a polished cement finish. Choosing the right polished concrete flooring system can be difficult without knowing the limitations and features of how the polished concrete process works.
The Concrete Floor Polishing Process
A polished concrete floor is a concrete floor that has been diamond ground and then treated with a chemical densifier before progressively polishing with finer diamond polishing tools. The diamond grinding tools are usually sequenced in grit levels of diamonds and polishing pads which are specifically designed for polishing concrete. Typically, concrete is not considered polished before 400 grit which is known as honed concrete, polished is normally finished to either the 800, 1500, or 3000 grit level depending on the shine and reflection specified. In simple terms, the process of concrete polishing is similar to sanding rough wood to a smooth and blemish free surface. Imagine that industrial polishing machines are like an orbital wood sander and the diamond polishing pads are like sand paper. The only difference is the industrial scale of the equipment used for polishing concrete rather than wood.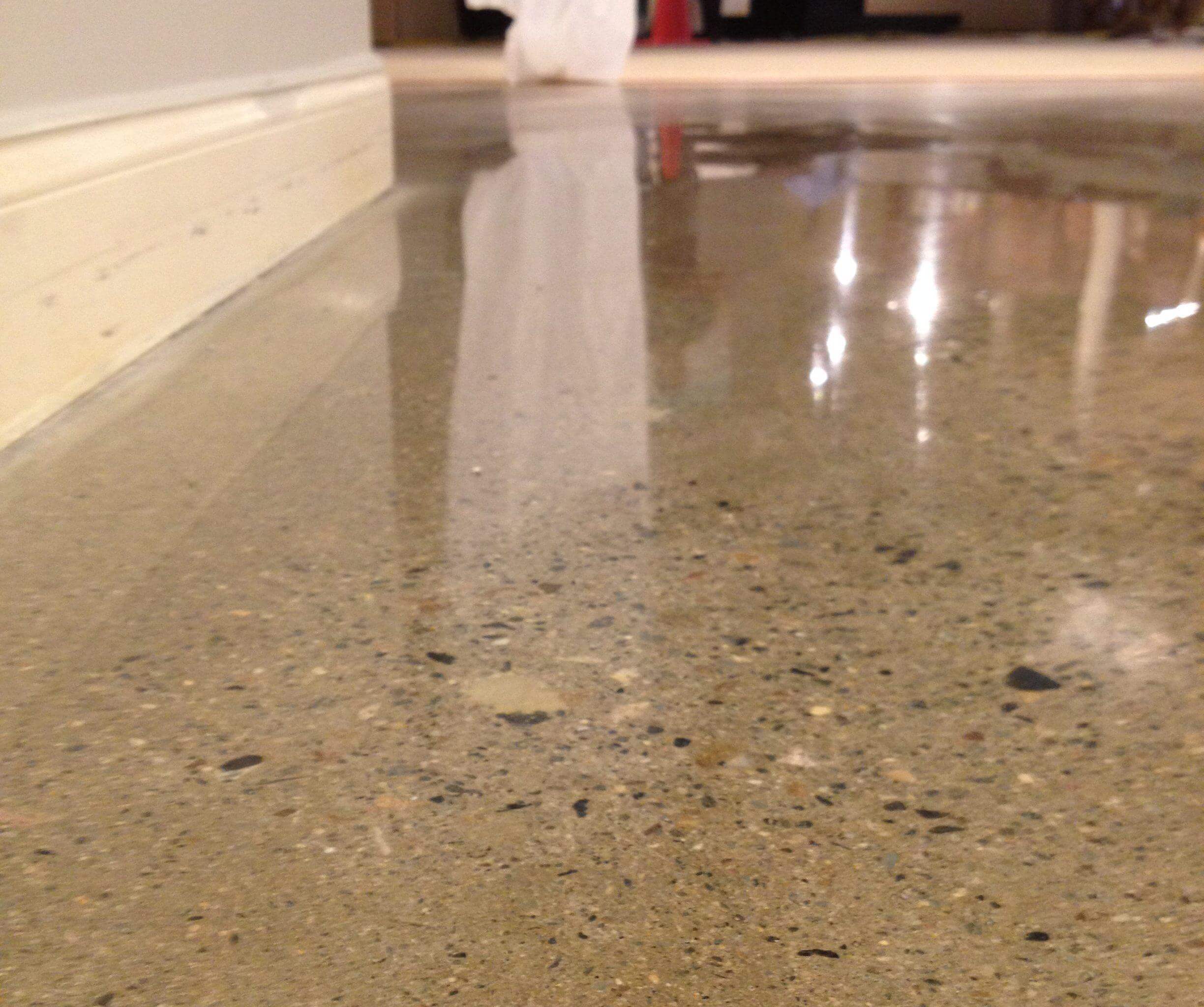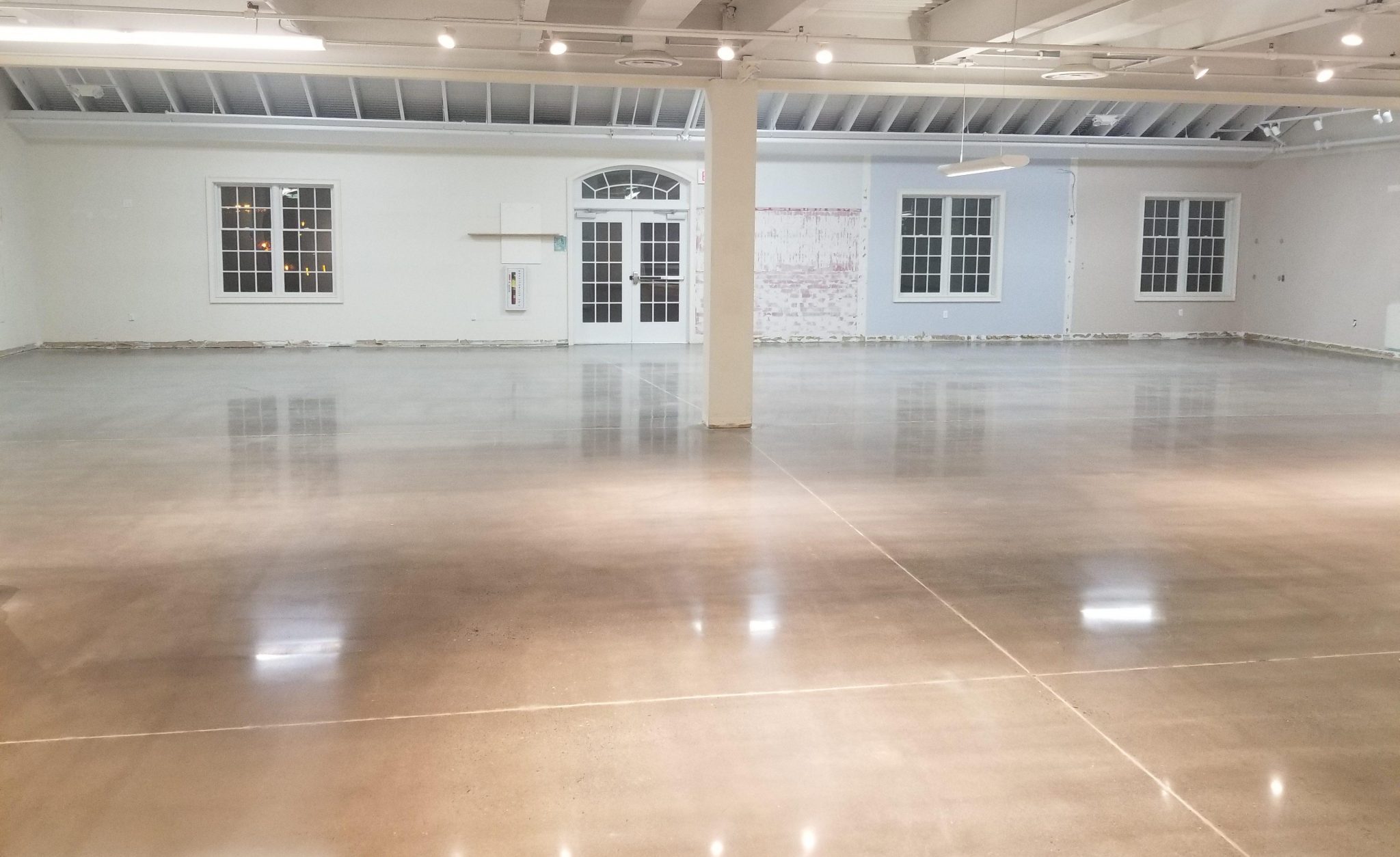 Polished Concrete Flooring
Polished concrete is considered a great sustainable energy efficient flooring option because most buildings have an existing concrete floor that can be diamond polished. Polishing an existing concrete slab eliminates the cost, energy and material consumed by applying a floor covering or coating. Polished concrete floors are low-maintenance, as they are more durable and easier to clean than many flooring options. It's relatively high coefficient of friction and makes it non-slippery, especially when some of the penetrating or topical sealers are used for additional stain protection. polished concrete surfaces prevent dust mites and other allergen problems associated with other flooring finishes. Evidence suggests polished concrete floors high reflectivity reduces the need for high energy lighting by up to 30% due to the light reflectance from the polished cement finish. polished concrete flooring is hard wearing and will not chip or dent easily like softer surfaces such as timber, tiles, vinyl or resin floors. Color can be added to polished concrete using specially formulated concrete dyes and reactive concrete stains. These coloring options are applied halfway through the concrete polishing process between 200 and 800 grit. Stencils and handcrafted saw cuts can be applied to create logos and colorful features or to define specific areas of use within the polished concrete floor. The benefits of polished concrete are endless. More polished concrete benefits.
Polished Concrete Limitations
There are limitations for polished concrete as with any other flooring finish. The condition of the existing concrete is by far the most important consideration when determining if polished concrete is an option. Cracks, delaminating and dusting surfaces can be overcome and or repaired in most cases, however, some concrete is beyond repair and would need to be replaced or special concrete overlays can be applied. Floor flatness plays a large role in the time it will take to polish concrete, the flatter the floor in the first place the easier it will be to grind and polish. Additional time and aggregate exposure should be expected if the existing floor is not level. Working with Concrete Renovations Inc to determine the condition of the concrete floor in the design stage will save time. Residential polished concrete is more difficult to specify than retail or commercial polished concrete due to the sizes of the rooms in most cases. Forward planning will reduce or eliminate any unforeseen problems prior to the concrete polishing works commencing. Should it not be possible to polish the existing concrete floor for any reason then Concrete Renovations Inc offers a wide range of polished concrete overlays or micro top polished concrete finishes, completing any polished cement flooring project to your design needs.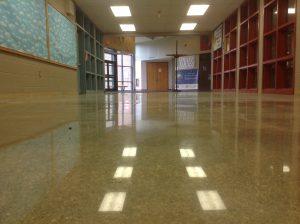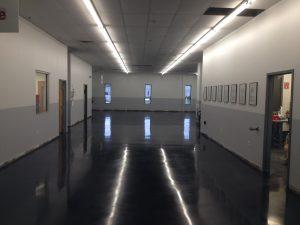 What type of Polished Concrete?
Polished concrete floor installations are categorized into several areas:
Existing Concrete Floor Polishing  – An existing concrete floor that can be polished.
New Concrete Floor Polishing
A new concrete slab that can be specified prior to polishing.
Polished Concrete Overlays
A cement-based overlay applied at 10mm to 40mm that can be diamond polished.
Skim Coat Polished Concrete Coating – A polymer modified coating applied at 0.5mm to 3mm that looks like polished concrete.
Concrete Polishing offers a wide selection of finishes
Ground concrete (20 to 100 Grit grinding)
Honed concrete (200 to 400 Grit polishing)
Low Sheen Polishing (400 to 800 Grit polishing)
High Shine Polishing (800 to 3000 Grit polishing)
Aggregate Exposure
Typical applications for epoxy sealers include:
Cement Paste polished concrete – Only polishing the existing surface with minimal sand exposure.
Salt & Pepper polished concrete – Light exposure of the surface to reveal the small sand particles.
Light Aggregate Exposure concrete Polishing – Medium exposure to reveal the top side of the aggregates.
Heavy Aggregate Exposure concrete Polishing – Heavy exposure to reveal the maximum size of aggregate.
When choosing what type of polished concrete is needed the level of expectation should then be confirmed and approved. Polishing existing concrete floors are subject to less control over the final finish. The color of the concrete floor is determined by the local sand, cement and aggregates in the original concrete mix. The floor flatness may not allow for zero aggregate exposure so it is important to define this before polishing the entire concrete floor.
About Concrete Polishing
Polished concrete flooring creates a glossy wear surface that is still the existing concrete. Polished concrete wear surface is super abrasion resistant and can have color added to create a beautiful flooring system. Concrete polishing is cost effective and has many different sheen levels. Concrete polishing is used in warehousing, retail, and any area where concrete is preferred.
Benefits of Polished Concrete
Concrete is super abrasion resistant
Concrete is high gloss
Concrete improves light reflectivity
Concrete lowers floor maintenance costs.
Concrete has low replacement costs
Concrete Polishing and Polished Concrete Flooring Contractors and Locations
Concrete Floor Contractors MA
Concrete Floor Contractors CT
Concrete Floor Contractors RI
Concrete Floor Contractors NH
Concrete Floor Contractors VT
Photo Gallery