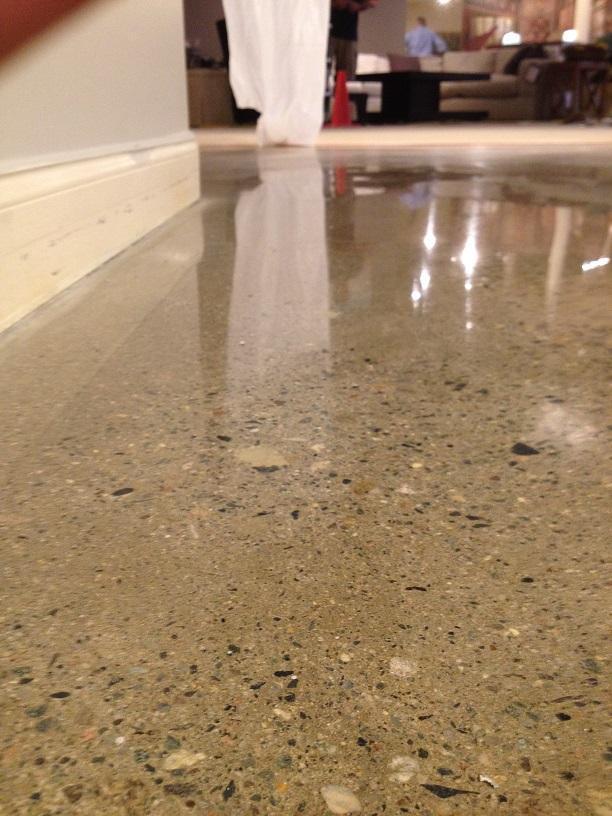 Cabot House Furniture
Retail
Customer: Cabot House Furniture, Framingham MA
Customer info and needs:
Cabot House purchased an building that previously used as a banquet hall and restaurant. They wanted to use the location as a high end furniture showroom. Cabot House wanted the existing concrete floor polished. One of he biggest challenges with this concrete slab was that it had thousands of holes where walls had been in the past. It also had hundreds of holes that had been filled with a leveler. This light color in the holes would have to be removed.
Concrete Renovations' Solution:
We specified that concrete should be grinder with 30/40 grit metal diamond to remove the mastics and sealers. Then all the holes and joints filled with the light colored repair mortar be removed. All the holes would then be filled with an epoxy matrix. The floor would then be polished to an 800 finish and stain guarded.
Our scope of work:
Grind floor to remove all mastics, sealers and patches.
Remove all light colored patch materials with saws and jackhammers.
Patch all holes and voids with an epoxy repair material.
Grind entire concrete floor with 30/40 and 60/80 grit metal diamonds.
Grind floor with 100 grit ceramic diamonds.
Apply a concrete hardening liquid.
Polish concrete using 200, 400 and 800 grit poly diamonds.
Wash concrete with a ride on Tennant Scrubber.
Apply a concrete sealing stain guard.
This floor exceeded the customers expectations. We have since polished a second location for them.