Massachusetts Industrial & Commercial Epoxy Flooring Company
Concrete Renovations Inc. near me in Cambridge? Yes! We have many business flooring contractors servicing Massachusetts, especially in Boston and Cambridge. Engineered Epoxy Floors are excellent for industrial environments in Mass. Epoxy floor coatings are non-dusting, have a very low odor during application and can provide properties like chemical resistance, slip resistance, and are extremely easy to keep clean.
These flooring approaches can be applied in very thin coatings using a simple process. Seamless epoxy flooring has a very long life expectancy even with the heavy traffic which is often found in other industrial surroundings and warehouses.
About Epoxy Flooring Contractors Massachusetts
We've been installing epoxy floors in Cambridge & Boston MA since 1997! Many of our flooring systems were to restore older concrete. While creating a first class look which will improve your business image to customers and your employees, light reflectivity power costs will improve greatly. Installations have been done by our flooring contractors in automotive retailers, aviation hangars, parking decks, and many similar locations.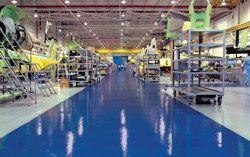 Benefits of Epoxy Floor Contractors
Epoxy Flooring is low-cost/high-value alternative
Epoxy Flooring is seamless
Epoxy Flooring simplifies damaged concrete
Epoxy Flooring is abrasion resistant
Epoxy Flooring is chemical resistant
Has reflectivity that light enhances
Call 413-998-3174 for a free quote from a contractor in Massachusetts.
Please visit our epoxy flooring Boston MA web page.