Stained Concrete
Stained Concrete Markets Includes: Not Mentioned
Acetone Stained Concrete and Concrete Dye Explained
Industrial Epoxy Flooring and Polishing takes pleasure in transforming dull or plain concrete floor slabs into beautiful practical concrete flooring for both homes and all types of businesses. We work together with our clients to produce acetone stained or dyed concrete floors that suit particular briefs. Concrete dye and staining applications produce a natural translucent and variegated color scheme within the surface.
This coloration of the surface resembles that of naturally aged stone, granite, marble, or a faux/mottled effect which are highly attractive and as every concrete stain job is unique in color and character seldom any two looks the same. Concrete Renovations Inc uses various types of professional specialty concrete stains and dyes such as acetone stain, water based dye along with acrylic and eco-friendly options. We determine with the client which type and color of concrete stain/dye to use for each project to achieve the desired look. The color staining concrete floor is suitable for virtually any new or old commercial or residential concrete floor slabs. A concrete stained/dyed floor is a permanent, durable, and economical floor solution. Our professionally applied, stains and dyes can rejuvenate almost any concrete surface and when completed, we will apply a sealer or coating depending on your specific project requirements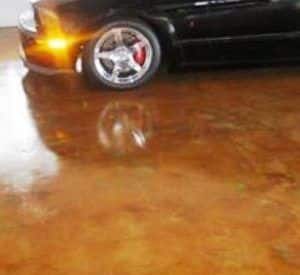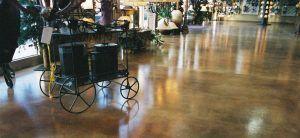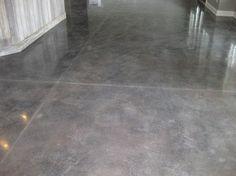 Re-work existing concrete and you will be surprised!
Over the years we have somewhat specialized in re-working existing concrete. Stripping, grinding and polishing concrete, coupled with our stain/dye application gives great results. With the use of concrete stains and dyes, we can even patch and blend 'patchwork' sections of old slabs and give the floor continuity across areas in the slab which looked out of place.
Photo Gallery