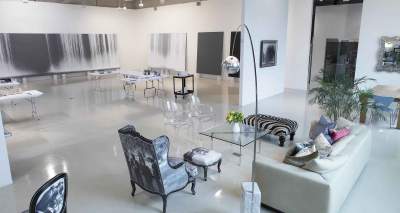 Hiromi Senju Art Studio
Public Places
Epoxy and Urethane Flooring
Pleasantville, NY
Customer: Hiromi Senju, Pleasantville NY
Customer info and needs:
Hiromi Senju is a Japanese, Nihonga Painter. He is known for his large-scale waterfall paintings. These paintings have been on display at the world's top galleries and even the White House. We were contacted by Hiromi's wife, Hiroshi.  Hiroshi wanted us to come up with a floor system that would be a warm tone, resist all the solvents used in cleaning the studio floor and be seamless. The area to be coated was 3,500 sf.
Our recommendation: 
We recommended a Tenant Company Epoxy/ Urethane flooring system. This system would be 47 mils thick. All the holes and voids would have to be filled with an epoxy repair matrix.  To keep the tone of the studio calm, we choose a desert tan color.
Our scope of work:
Grind floor to provide the proper surface profile.
Patch all holes and voids with an epoxy repair matrix.
Apply a high solids epoxy primer. At a thickness of 12 mils.
Apply a 100% solids,  self leveling epoxy at a thickness of 30 mils.
Apply a chemical resistant urethane topcoat at a thickness of 4 mils.
We were very honored to be chosen to install the flooring for where Hiromi would be working.
Hiromi and Hiroshi were very kind to our installation crews. They were very happy with the result and had us install the flooring in the  addition to the studio 5 years later. All floors at this location were installed by our Southwick, MA crews.