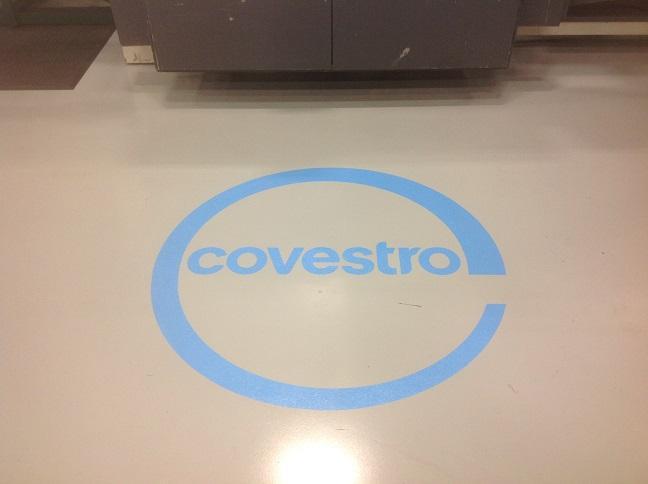 Covestro
Manufacturing
Customer: Covestro  South Deerfield, MA
Customers info and needs:
Covestro is a leading producer of advanced polymers and high-performance plastics in North America and around the world. The concrete floors in this project were not previously coats with anything. They were bare and had worn badly in some areas. Covestro wanted to update these areas with a flooring system that would be light reflective, chemical and wear resistant, seamless and extremely durable. They also wanted 2 Covestro logos in the floor. This area would be approx. 10,000sf.
Our recommendation:
We specified a Tennant Company, 60-mil, self leveling epoxy with a high performance urethane. The joints in this area were deteriorated and needed to be repaired. We specified diamond grinding to prepare the concrete floor for the new system.we also recommended installing yellow traffic markings.
Our scope of work:
Diamond grind entire concrete floor to provide the proper surface profile.
Prep and repair floor joints with an epoxy repair matrix.
Grind repairs smooth.
Prime floor with a pigmented epoxy floor primer.
Apply the 60-mil, self leveling epoxy to the floor. Cut and caulk control joints.
Apply the high performance urethane topcoat
Install 4-inch epoxy traffic markings.
Install 2 Covestro Logos.
This project came out perfect. The customer was very pleased. We have completed many addition floors for this customer.