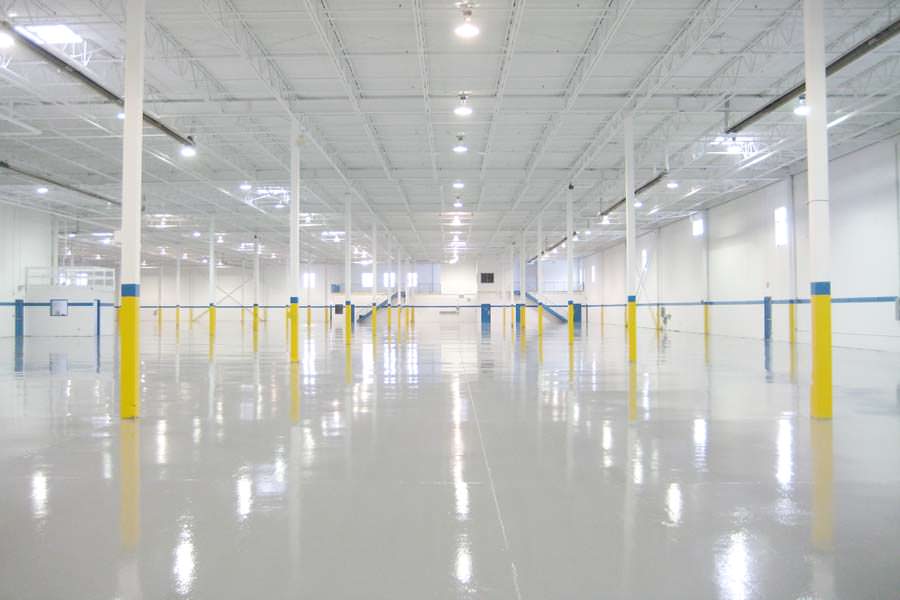 ADP Proxy
Retail
Customer: ADP Proxy, Comack NY
Customer info and needs: ADP in Comack, NY is a proxy mailing facility Most of the worlds fortune 500 Companies use this service. ADP added an additional 400,000sf to their existing building. They wanted a coating on the new concrete floor that would be easy to clean, light reflective, durable and dust proof. ADP also needed all the control joints filled. The area to be coated in one phase was 390,000 sf. The joints to be filled were approx. 3.5 miles. The installation window was only 14 days.
Our recommendation: We recommended a shot-blast preparation method and a 32 mil, epoxy flooring system. We specified the joints be cut and filled with a polyurea joint filler.
Our scope of work:
Shot-blast floor to provide the proper surface profile.
Saw cut and fill all control joints.
Apply a high solids epoxy primer at a thickness of 12 mils.
Apply a 100% solids epoxy mid coat at a thickness of 22 mils.
Apply a 100%solids, orange peel, epoxy topcoat at a thickness of 8 mils.
Job notes: This job was high profile and fast track.
Our aggressive schedule was as follows:
Days 1 and 2- Cut and fill all joints. This was done in two days by running 4 crews around the clock.
Days 2 and 4- Shot-blast entire floor. This was done by running 4 machines around the clock .
Day 5- Vac and wash entire floor. This was done by running 3 Tenant, ride on scrubbers.
Days 6 and 7- Primed the entire concrete surface. This was done by having 22 installers and 4 mixers.
Days 8 and 9- Mid coated entire primed floor. This was done by having 26 installers and 6 mixers.
Days 10 and 11- Top coated entire floor. This was done by having 26 installers and 4 mixers.
The customer was extremely happy and impressed that we completed the floor 3 days early.
Since this project we have completed 3 other floors for this customer.
To complete this floor so quickly, we pulled installation teams from our Boston MA, Albany NY, Middletown CT and Southwick MA locations.